Tackling globally standardized ESG disclosure is a business imperative – a data-centric approach supported by XBRL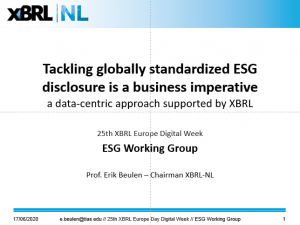 Synopsis of his contribution on the 25th XBRL Europe Digital Week – 17 June 2020
ESG Working Group
Prof. Erik Beulen – chairman of XBRL-NL
Implicit inclusion of ESG disclosure is not good enough1, only a handful of companies had pro-actively self-identified pandemic risks as a material factor on the S1 and 8-K form2. A global non-financial report standard for integral ESG disclosure is needed3. Fortunately pre-dominantly European regulators are enforcing ESG disclosure to increase transparency and improve sustainability. This is also in the interest of shareholder & investors. They are including ESG data in their portfolios to hedge risks and find alpha4. However I prefer to emphasize the opportunities of ESG disclosure and to take the stakeholder perspective.
Data centric value creation
Over the last ten years the value creation of ESG disclosure has grown significantly5. There are three data-centric tendencies. First, there is an increased ESG self-reporting, which generates large volumes of ESG data. Despite the lack in transparency and comparability these ESG data can be analysed6.  Secondly ESG data reports analyses is increasing, examples are the APG and PGGM Artificial Intelligence powered Sustainable Development Investment Asset Owner Platform7 and Blackrock's integrated ESG focus8. Finally the Europe regulators are taking the lead in enforcing ESG disclosure which will results in highly usable ESG data, however the NFRD is currently limited large Public Interest Entities with more than 500 employees.
Four issues
There are four issues in in globally standardized ESG disclosure. First of all there are too many standards. Also, the standards focusing on E, S or G, only the minority of the standards qualify as integral standards9, 10, even aligned standards would in my humble opinion not good enough11. The absence of a standard reporting language is also not helpful, as the difference in applied screen, i.e. neutral or negative screening12. Secondly there is a lack of history, data sets go back only 5-10 years4. On top of that we see changed/revised definitions over time and consolidation in sell market (e.g. Morningstar/Sustainanalytics and Dow Jones Index/Robeco SAM). Furthermore the usability of reports of the ESG rating agencies is negatively impacted by black-boxing12, which is also hindering a data-centric approach. Also, ESG disclosure of rating agencies is unrelated. The correlation of five ratings from ESG rating agencies was on average 0.61 – compared to a 0.99 correlation of  Moody's and S&P credit rating16. Thirdly there is signals behaviour. Society and regulators adjust metrics and weighting of metrics over time for Environment, Social and Governance and within category5, 13. Therefore back testing is also difficult to impossible, as on top of that ESG has been differently priced by the market over the years4. The last issue is greenwashing. Many reports have a flimsy proof. In reporting ESG avoid fluffy language, suggestive pictures, irrelevant claims and gobbledygook14, 15.
Regulatory metrics powered by XBRL
Poor ESG data quality, intransparency and the absence of data-exchange standards negatively impact achieving sustainability goals, and also jeopardize the ability to hedge risks and find alpha. This we why the European regulators, i.e. the European Commission, need to enforce digitized single definitions and data storage (open access) – define minimal requirements. Also the XBRL community to continue to engage with the stakeholders to ensure17, 18, 19. Furthermore Artificial Intelligence can power the ESG analyses, as improvement is coming from opportunities to analyse the ESG data, not from the ability collect the data. For the data exchange expanding XBRL to non-financial information is an obvious choice.
Call for action
The most important actions are for the EU to enforce ESG reporting and facilitate storage, and for the XBRL community to expand XBRL to non-financial information. Furthermore investors have to continue to build ESG capabilities as well as their ability to truly incorporate ESG in their strategies. Also, entities need to implement process and governance to ensure high quality/accurate ESG disclosures and ensure sufficient ESG leadership21. They have to consider appointing a Chief Sustainability Officer, or even better a Sustainability Director reporting to the CFO, COO or Chief Risk Officer. This ensures ESG is an integral part of risk management as well as of doing business. Finally, we need to be prepared for the future: the next level ESG disclosure is on activity level –  segmenting entity's activities is needed12!
e.beulen@tias.edu // https://www.tias.edu/en/about-tias/profile/erik-beulen
https://www.linkedin.com/in/erik-beulen-6b8231a/
erik.beulen@xbrl.nl // https://nl.xbrl.org/xbrl-nederland/
17 June 2020
References